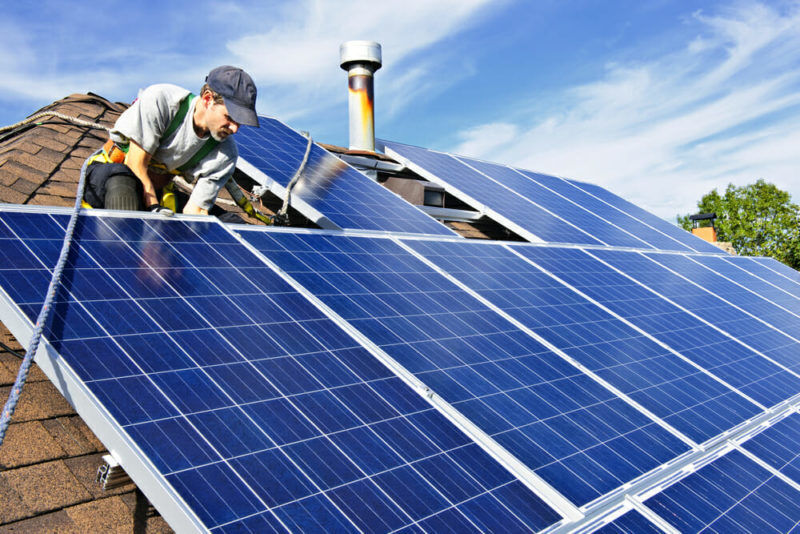 Solar panel lifespan
A common question that your typical residential solar panel customer asks is "how long do solar panels last?" As a general rule of thumb, the solar panel lifespan will be between 25 – 30 years depending on the manufacturer.
It's important to note that this doesn't imply that they will stop producing electricity after that period.  Solar panels are generally built robustly and to withstand all kinds of weather conditions.  Because they don't have any moving parts, in practice you should expect your solar panels to last for decades.
Key factor in solar panel lifespan: Degradation rate

A study in 2012 by the National Renewable Energy Laboratory (NREL) in the US, found that on average the energy output of solar panels deteriorated by 0.8 percent each year.  This is what's known as the solar panel degradation rate.
Bear in mind that this rate will vary depending on what solar panel brand you buy from.  In the last 10 years since this 2012 study was published, more efficient solar panels have been developed with degradation rates of 0.7% being more common these days.
Let's look at an example of what degradation rate means within the context of solar panel performance. Most solar panels will lose 2.5% of their nameplate production capacity in the first year and 0.7% per year after that. That means after two years, your solar panels will continue to operate at 96.8% of their original output. After a 25 year period, they will operate at close to 80%.
Solar Panel Warranty Lengths

In light of the degradation rate, your solar panel manufacturer will provide a few different warranties to cover your solar panels.  The industry standard for warranties is as follows:
Performance warranty of 25 years to output of 80% of nameplate wattage
Product warranty of 10 years covering product defects
The product warranty of a solar panel probably provides the best indicator of its expected life. The product warranty essentially is the manufacturers promise that nothing within their control will go wrong. Logically after that period there is greater risk that the solar panel will stop performing as expected. Some of the top solar panel brands will offer a 25 year product warranty providing a strong indication of longevity of their products.
It is the performance warranty which you want to use to determine how much electricity our solar panels will produce over their lifetime. Solar panels utilising more modern technology (such as a durable glass backsheet) have been able to lower their degradation rate.
Some manufacturers in order to differentiate themselves from their competitors have started offering 30 year performance warranties.
Compare quotes from up to 7 local installers now.
Causes of solar panel degradation:

Solar panels slowly close their ability to produce energy through the natural deterioration of the silicon solar cells.
Main causes of panel deterioration include:
Humidity levels: Australia is known for its high heat and humidity environment. Whilst this makes for a nice lifestyle for people, it can be really bad for solar panels. Poorly made solar panels can start falling apart under those conditions. It can also cause Potential Induced Degradation (PID) . Without getting too technical, it is unwanted migration of the charge carriers (ions and electrons), thereby reducing the performance of each cell
Thermal cycling: As temperature changes occur between day and night,  materials naturally expand and contract. This points the joints of the materials on a solar system to strain and deteriorate.
UV damage: As you should be aware, with Australia having relatively high sunshine hours this is something that's good to consider.  Watch out for bad manufacturers who avoid using quality UV blockers in the epoxy glue that holds the solar panels together.
How can you make your panels last longer?

Firstly, at the time of purchase are a couple of important considerations.
There is a huge difference between the solar panels at the cheap end of the market and those premium brands at the top end like Sunpower, LG and REC. Although the cheapest panels will still offer a 10 year product warranty, often we hear about customers who are experiencing problems with those panels, yet being unable to claim warranty.
A warranty policy is only valuable if the product manufacturer has an Australian presence (with an office and a website) and a clear warranty claim process.
Another way to ensure your solar panels have a good chance at reaching their life expectancy is to find a reputable installer. Many of the problems that cause panels not to reach the expected lifetime can stem from poor installation techniques.
Below are a few action tips you can take in improving your solar panel life expectancy:
Get your solar panels checked: Although your system may be performing well, it is recommended to get a full electrical inspection from a Clean Energy Council qualified installer every 2-3 years. An inspection can identify early any issues like loose wires or faulty system components which could lead to your solar panels perishing early.
Clean your panels: If you are in an area where your solar panels are accumulating dirt or debris that isn't naturally cleaned in heavy rainfall, then you may need to consider having your panels cleaned periodically. Dirt build up can cause electrical hot spots to form on a solar panel which will accelerate the degradation process.
At Solar Choice we've seen many cowboy installers come and go in the solar industry. Which is why we've pre-vetted over 250 installers since 2008. When we accept installers onto our network, they have to go through a stringent vetting process. This  ensures we only provide an apples-for-apples comparison of solar quotes from companies you can trust.
Compare quotes from up to 7 local installers now.
Quick links:
Here's a brief list of solar panel brands with some of the best 25 – 30 performance warranties on the Australian market:
Brand
Image
Warranty
Degradation Rate

Sunpower Maxeon 3

Product 25 years

Performance 25 years

Guaranteed 92% after 25 years

REC Alpha Series

Product 25 years

Performance 25 years

Guaranteed 92% after 25 years

LG Neon R

Product 25 years

Performance 25 years

Guaranteed 90.8% after 25 years

Jinko Tiger 66 cell

Product 25 years

Performance 30 years

Guaranteed 87.4% after 30 years

Hyundai VG Series

Product 25 years

Performance 25 years

Guaranteed 84.8% after 25 years
For an in-depth list of our opinion of the 10 best solar panels in Australia, click here
Conclusion: Your solar panels will likely last for 25-30 years as long as you pick a good brand.
Most utility-scale solar farm investors project cash flows over 30 years. Importantly, they have strict standards for procurement of solar panels identifying higher quality solar panels and product manufacturers with stable bankability that they expect to last for a similar period.
If you end up going for the cheapest quote you can find and choose a solar panel brand with a strong Australian presence then you run the risk of the solar panels not even lasting for the product warranty period (10 years) with little recourse if they don't.
Read our solar panel reviews and compare solar panel options on our online comparison tool to ensure you select a solar panel brand that will last the test of time.
Compare quotes from up to 7 pre-vetted installers in your area now.
Since 2008 our knowledge and sophisticated software has allowed over 160,000 Australian households and businesses to make a well-informed choice on their solar & battery installer.