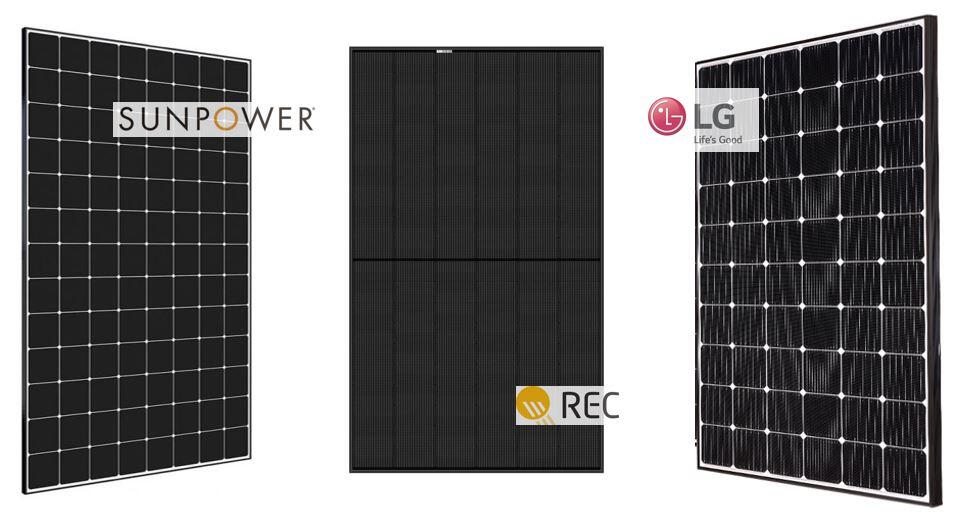 We often get asked, what are the best quality solar panels in Australia? It's not a straightforward question to answer, however in the below table is our attempt to provide a justifiable ranking of the best solar panels you can buy in Australia.

Please read our methodology below – we have attempted to be as transparent as possible. Importantly, we do not sell any of these products and have not received any compensation from any product manufacturers. Please email us if you have any concerns about this article.
LG have been removed from the below list as they have exited the solar panel market.
Solar Choice's List of the Best Solar Panels in Australia for 2022:
Brand
Image
Criterion 1: Warranty
Criterion 2: Efficiency
Criterion 3: Bloomberg Tier 1
Criterion 4: Degradation Rate

Sunpower Maxeon 6

Product 40 years

Performance 40 years

Up to 22.5%

Yes

Guaranteed 88% after 40 years

REC Alpha Pure Series

Product 25 years

Performance 25 years

Up to 22.2%

Yes

Guaranteed 92% after 25 years

Canadian Solar HiHero

Product 25 years

Performance 30 years

Up to 22.8%

Yes

Guaranteed 89% after 30 years

Jinko Tiger Neo (N-Type)

Product 25 years

Performance 30 years

Up to 22.2%

Yes
 

Guaranteed 87% after 30 years

Solarwatt Vision Pure

Product 30 years

Performance 30 years

Up to 20.7%

No

Guaranteed 87% after 30 years

Q-Cells Q.Peak Q.MAXX G4+

Product 25 years

Performance 25 years

Up to 21.4%

Yes

Guaranteed 86% after 25 years

Hyundai UF Series

Product 25 years

Performance 25 years

Up to 21.3%

Yes

Guaranteed 84.8% after 25 years

Longi Hi-MO 5m

Product 25 years max

Performance 25 years

Up to 21.5%

Yes

Guaranteed 85% after 25 years

Winaico Gemini

Product 25 years (with registration)

Performance 25 years

Up to 21.2%

No

Guaranteed 85% after 25 years

Yingli YLM-J

Product 25 years

Performance 25 years

Up to 21.3%

Yes

Guaranteed 85% after 25 years.
Important note: This ranking reflects the opinion of Solar Choice only and we encourage readers to do their own research and come to their own conclusions. 
Compare solar quotes from up to 7 local installers now.
Our Methodology: How we determined the best solar panels in Australia
This is focused on residential, mono-facial solar panel options looking at each brands best performing 60 cell / 120 half cell solar panel. In order to keep this simple we have narrowed it down to 4 of the most important criteria when assessing a solar panel. 
Solar Panel Performance and Product Warranty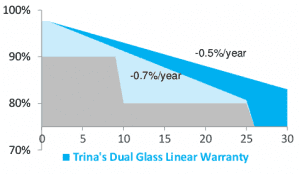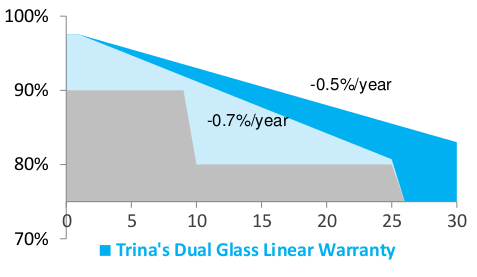 One of the most important criteria to consider is what warranty is provided by the manufacturer. As with most products the length of included warranty is a very good indicator of quality and durability. 
Solar panels come with a performance warranty and a product warranty. The performance warranty guarantees the solar panel will still produce a minimum percentage of its nameplate output at the end of its expected life (typically 25 years). Solar panels output always gradually degrade over time, but the rate at which they do so depends on the solar panel quality.
A solar panel product warranty covers defects in the manufacturing process. Typically in the industry we see a minimum of 12-15 years provided as a product warranty with the premium options offering 25 years. 
All of the companies in our top 10 list have an office in Australia who you can contact to claim warranty. This is important to ensure you have some options if your installer goes out of business.
Max Efficiency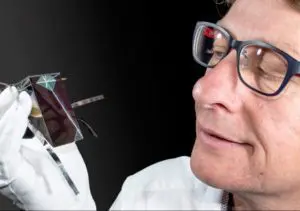 Manufacturers of solar panels have been competing for many years on producing the highest possible output from a single solar panel. While 100 watt solar panels were the norm 10 years ago we are now looking at 300 to 400 watt solar panels for residential projects.
The max efficiency is a standardised measure which rates a solar panels efficiency in converting sunlight into DC electricity. The higher the efficiency the less solar panels you'll need on the roof and the more advanced the technology is.
Bloomberg Tier 1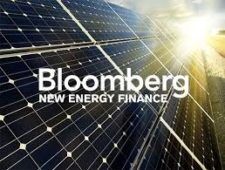 The infamous Bloomberg Tier 1 ranking is commonly referred to as a bellwether in the solar industry for identifying the better solar panel brands. It is important to note that this ranking only looks at each manufacturer's bankability. This is important because the business will need to be around for 25-30 years if you expect them to honour their lengthy warranty terms.
While this ranking does not assess the quality of solar panels, it adds a lot of weight to the warranty they are providing.
Degradation Rate
As discussed in the warranty section the degradation rate is usually backed up by a performance warranty. Through advancements in the durability and strength of solar cells and solar panel components, solar manufacturers have been able to guarantee larger percentages of the output by the end of their lifetime.
While in the short-run this won't equate to a huge saving, over the life of a solar project this can amount to significant additional savings.
Please bear in mind that the current ranking is based on Solar Choice's independent opinion only based on the above criteria. Solar Choice is not compensated by any product manufacturers.
Limitations of our Best Solar Panel ranking
Ultimately there are many other factors that you could use to assess and rank solar panels – we've picked those that are most important. Some of the other factors are listed below. 
Cost – as this article focuses on the best quality solar panels we've left cost to the side for now. When looking at best value solar panels and factoring in the costs it would be a much more difficult task and a much longer list.
Specific solar panel technologies – if you have a specific desire for N-type silicon cells or PERC technology which was developed in UNSW then you may need to form a separate list of panels that include these technologies. We have also left out dual glass panels and bifacial panels in this assessment as they are not commonly used in residential projects.
Warranty specifics – as with all warranties the devil can be in the detail. If you are looking for a warranty that will provide the most cover for a specific event like salt corrosion or extreme heat then you will need to look at the warranty documents individually.
Temperature coefficient  – if you are in an area that gets extreme heat (such as the northern and central parts of Australia) you may want to take a closer look at the temperature coefficient of each of the panel options. The temperature coefficient indicates how much a panel will reduce its output once the temperature goes above or below the optimal range.
Country of manufacture – if this is important to you then you can usually identify the country of origin on the products datasheet or head over to our

product reviews page

to search for a particular brand. If you're looking for an Australian-made solar panel the only option is Tindo Solar who are only producing in small quantities.
Compare quotes from up to 7 pre-vetted installers in your area now.
Since 2008 our knowledge and sophisticated software has allowed over 300,000 Australian households and businesses to make a well-informed choice on their solar & battery installer.