New data released on the Australian Renewable Energy Agency website has revealed some interesting information about the costs of large-scale solar projects in Australia.
It suggests that solar energy could be built at around $110-$120/MWh in Australia, although with cheaper financing this could be lowered by around another $10/MWh.
This is significantly cheaper than the $135/MWh benchmark set by ARENA for its tender for $100 million of grant funding, which it says should help about 200MW of large-scale capacity get built – although the agency suspected that this might be the result, given the prompting of some competitive bidding.
It means that the additional subsidy (ARENA grants) might only amount to between 10 and 20 per cent of project costs.
"(This data) is showing that costs are coming down, and in fact they have come down dramatically, which is where we need to get to wind parity, which is one of our goals," ARENA CEO Ivor Frischknecht told RenewEconomy.
Frischknecht said while wind is a relatively mature technology in Australia, large-scale solar is not, so there is potential to lower the costs of inputs that can be controlled in Australia – labour, brackets, frames, manufacturing, maintenance, and the cost of capital.
"If we can get the costs down as low as possible – then developers will have a choice. In southern Australia it might be wind, in other areas it could be sun. In some it might be both."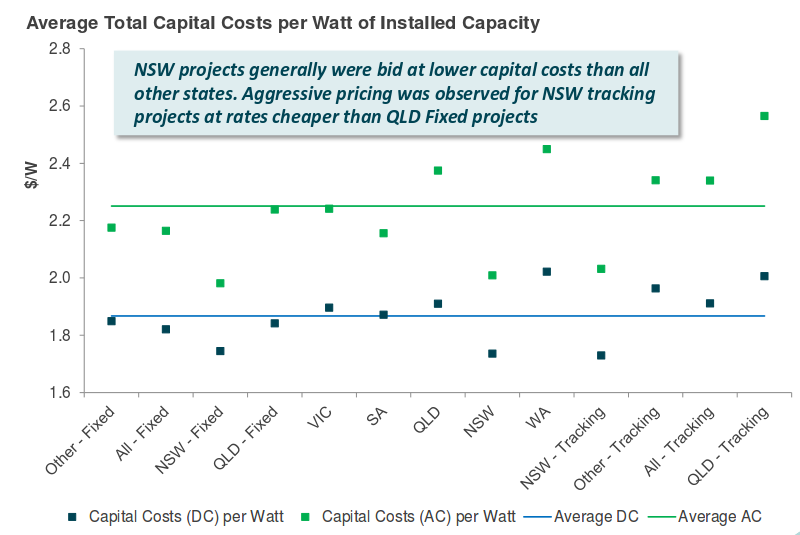 © 2016 Solar Choice Pty Ltd
Giles Parkinson regularly contributes unique content to Solar Choice News. Giles is the founder and editor of clean energy industry news service RenewEconomy. He is a journalist of 30 years experience, a former Business Editor and Deputy Editor of the Financial Review, a columnist for The Bulletin magazine and The Australian, and the founding editor of Climate Spectator.
Latest posts by Giles Parkinson (see all)