South Australia could soon boast Australia's largest single rooftop solar array, with the government this week issuing a call for proposals to install PV panels on up to 25,000 square meters of roof space on a former automotive plant south of Adelaide.
Located on a 61 hectare industrial site known as Tonsley, the plant was where Chrysler and then Mitsubishi made cars for nearly 50 years, until Mitsubishi ceased operations in 2008.
In 2010, the South Australian government bought Tonsley with the idea of creating a manufacturing and industry cluster, to help facilitate the state's technology transition.
Two years later a Master Plan for the site was released and the government committed $253 million to its redevelopment.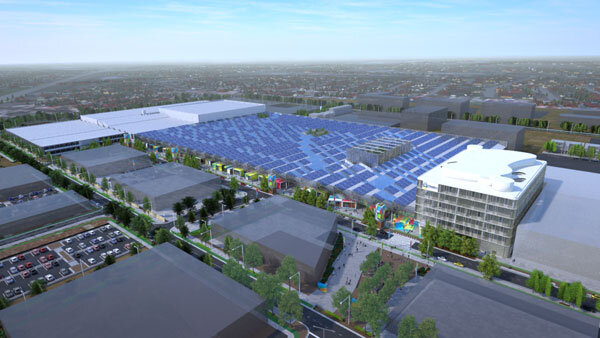 Artist's impression of the completed solar array on the main building at the Tonsley site. Image via Tonsley.com
The site has since been redeveloped around the skeleton of the old Mitsubishi plant, making a feature of the iconic saw-tooth roof that once housed the Mitsubishi plant's main assembly building.
The solar project – for which a two-staged request for development proposals will open this week – will allow for up to 25,000 square meters of solar panels to be installed on that same roof, to generate a potential 3.6 megawatts of electricity; enough to power up to 770 homes a year and save 2430 tonnes of greenhouse gas emissions.
If it goes ahead at that size, it will be three times bigger than the next biggest rooftop solar array, the 1.2MW installation at the University of Queensland.
The plan is to use a retailer-funded business model to leverage private investment for the array, rather than additional government funding.
When it is built, the PV array will provide Tonsley tenants and investors with solar-powered electricity at a cheaper rate than the grid.
"The solar array further adds to Tonsley's environmental focus to reduce ongoing energy operating costs and demonstrate a significant reduction in carbon emissions," said SA manufacturing and innovation minister Susan Close.
The request for proposals for the project also includes an option to expand onto the adjoining TAFE SA Sustainable Industries Education Centre roof space.
Top image: An aerial view of the Tonsley site, via Tonsley.com
© 2014 Solar Choice Pty Ltd

Latest posts by Giles Parkinson
(see all)