South Australia's network operator has predicted a dramatic uptake of distributed energy resources that would see almost all households in the state with rooftop solar by 2040 and more than half with energy storage.
In an investor report released on Monday, SA Power Networks predicted that more than 50 per cent of all households in the state would have rooftop solar by the mid 2020s – up from 1 in 4 today – and more than 30 per cent would have energy storage.
By the mid 2030s, SAPN predicts the number of households with energy storage systems will have surged to more than 50 per cent, while the number of households with solar will be up around 70 per cent.
Electric vehicle uptake is also predicted to rise sharply from 2020 onwards, with more than 10 per cent of SA households projected to have an EV in the mix by 2035.
The report also suggests that a sizeable chunk of its customers will disconnect from the grid completely – in contrast to the view of some retailers – and only a minority will relay on the grid entirely. (see second graph below).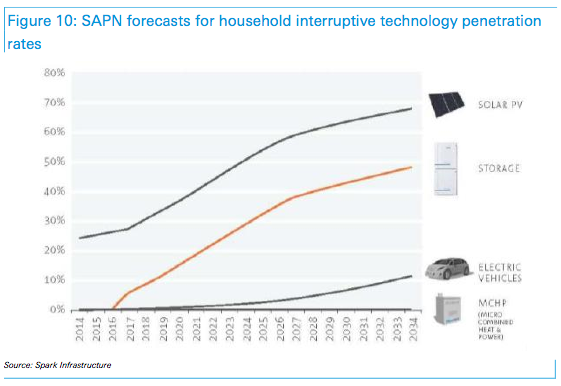 South Australia is already a world leader in wind and solar energy, with the state sourcing 40 per cent of its generation from those "variable sources", a development that has forced the mothballing of the biggest coal plant in the state, and now part of the biggest gas plant.
The dramatic forecast from South Australia's sole electricity distributor follows on from predictions by the WA grid operator that three quarters of households and a majority of businesses could have solar within a decade.
Even WA energy minister Mike Nahan, said last week he had instructed the state-owned utility Horizon Power to investigate renewables based micro-grids as a means of providing cheaper and more reliable power to regional areas.
Nahan said it was clear that having an elongated grid – with huge distances of poles and wires – or relying on diesel power was too expensive and unreliable.
Similarly, SAPN points to a "long and radial" network structure in regional areas; an average age of network assets of 38 years and situation where 70% of assets supply 30% of customers outside the Adelaide Metropolitan area.
"The energy landscape is changing," says the report from Spark Infrastructure Group – the ASX-listed company that has a 49 per cent shareholding in SAPN.
"Consumers, energy companies and investors must have confidence that energy market frameworks will evolve appropriately."
On the investor front, SAPN's eyes-wide-open approach to what it describes as a "consumer driven" energy market transformation has impressed Deutsche Bank.
"We favour companies that take a proactive approach to change as being better placed to leverage opportunities, and avoid major threats," a Deutsche research note on Spark Infrastructure Group said on Tuesday.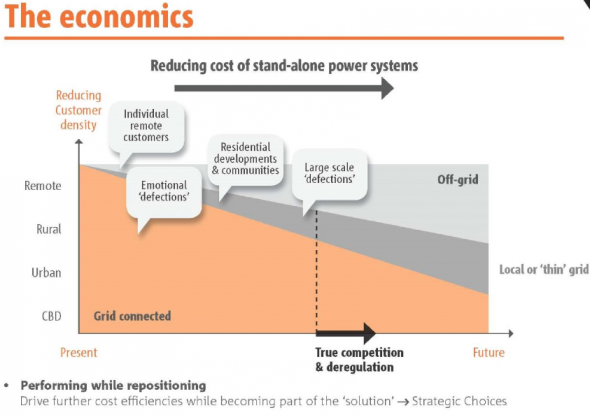 Source: Spark Infrastructure
Top image: SA solar penetration by postcode in 2013, via APVI
© 2014 Solar Choice Pty Ltd

Latest posts by Giles Parkinson
(see all)