Building-integrated photovoltaic (BIPV) technology, which involves substituting standard building materials to allow the PV to form an integrated part of the building façade, is set to be the next major growth area in the Australian solar PV industry, says building designer and Solar Choice consultant Nik Scott.
While BIPV products have not historically had the same levels of commercial application as the more typical roof mounted options, many of the world's leading solar PV manufacturers and universities are now spending a significant proportion of their R&D budgets developing and delivering to market new, improved and cheaper BIPV solutions.
A considerable amount of investment and research is taking place across the world, with new products continuously being released into the market . According to intelligence firm NanoMarkets, the global BIPV market is set hit USD 7.5 billion in three years, representing close to a four-fold jump.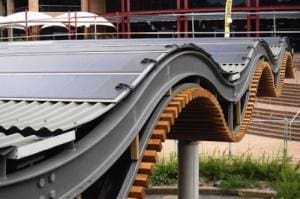 University of Wollongong solar BIPV installation
Because Australia's leading solar energy broker Solar Choice believes it is important to offer its clients the widest possible range of solar PV system solutions, it has entered into partnership with BIPV expert Nik Scott. Nik, a Masters of Architecture graduate from the University of Technology, Sydney, will be working with Solar Choice's Commercial team to offer clients BIPV design solutions.
Having spent four years with a large corporate architectural firm Nik witnessed firsthand how sustainable design often takes a disappointing back seat to aesthetics and short-term budget planning in Australian commercial construction projects.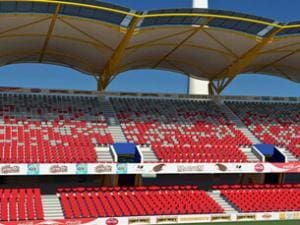 BIPV at Metricon Stadium on the Gold Coast
Nik and Solar Choice have identified a growing trend in BIPV products being developed and integrated into overseas buildings. As an Australian native and building designer, Nik can see how the Australian climate provides the perfect environment to take advantage of the growing list of BIPV products available.
Both Nik and Solar Choice's vision is very much guided by a strong passion for the environment and an interest in lessening the impact the construction industry and long-term building operation have on the environment. In addition, typically, sustainably designed and rated property has the added advantage of increased consumer demand and building longevity.
Through his involvement in research and commercial design projects Nik became very concerned  about the impact the construction industry and buildings have on the environment – in particular the production of single function and high-emission embodied materials.
"We have a responsibility as building designers and large scale users of resource, to lessen our footprint, preserve our environment and head towards zero to positive ratio emission usages."
Almost 30 percent of Australia's emissions come from the construction and manufacturing sector, with another 8 percent from the energy industry. By developing lower carbon technologies and low-carbon manufacturing practices we can have a significant impact on Australia's contribution to carbon emissions. What this means for Australian homeowners is more solutions for home energy generation and more control over their energy bills.
BIPV is an excellent solution for customers concerned about the visibility of solar PV on their building or who have limited space for traditional panels.
© 2012 Solar Choice Pty Ltd

Latest posts by Rebecca Boyle
(see all)