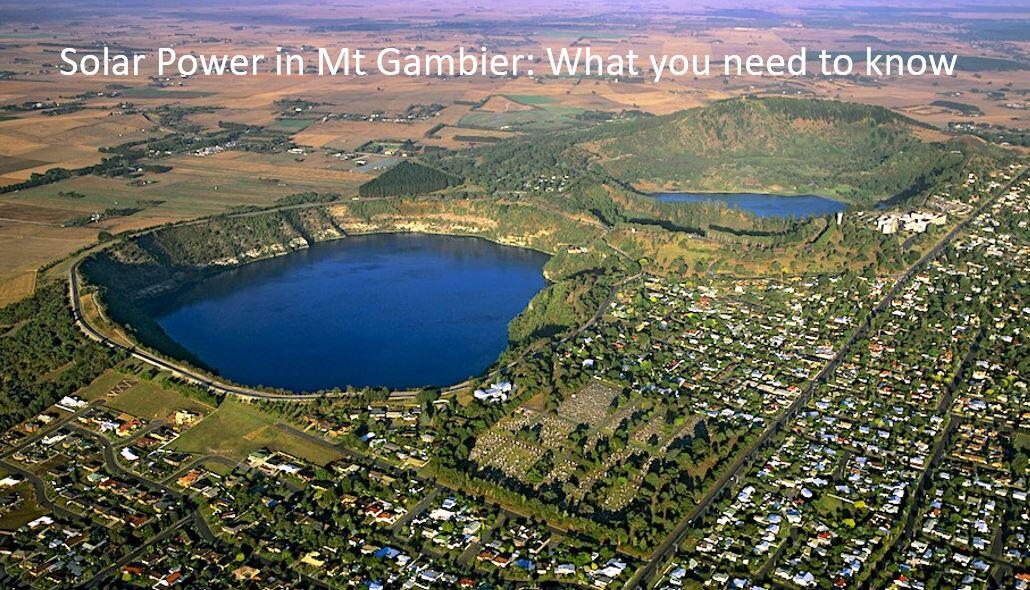 We can see from data from the Australian Photovoltaics Institue that almost 10MW of solar panels have been installed across approximately 2,500 systems. Based on the roof space available that suggests a take up rate of 17.7%. The popularity of solar in Mt Gambier stems from a few key environmental characteristics which we will look at in this article.
How much energy will solar panels produce in Mt Gambier

As you might expect, the amount of energy that a solar panel will generate depends on a number of factors including:
The orientation and tilt of the solar panel
Whether it is summer or winter, and the current weather conditions
The efficiency of the overall system
However, data from NREL tells us that a 1kW solar panel system will generate on average 3.84 kWh per day. We have worked out the daily output for typical system sizes below.
*Assuming solar panels are mounted at slope of10 degrees to the north (with no shading) and a system efficiency of 80%
Compare solar quotes from up to 7 local installers now.
How many solar panels is suitable for your home?
Firstly its important to understand the 2 main ways in which solar power will provide benefits to you in Mt Gambier:
1. Reducing the amount of power you buy from the grid – By consuming solar power as it is generated ("self-consumption") you can reduce the number of kilowatt-hours (kWhs) you see on your bill. Note that your bill will not tell you how much solar has offset, you will need solar monitoring with a consumption monitor to know that for sure. To maximise this benefit you should switch as much power consumption (pool pumps, dishwasher, laundry, water heating) to run between 9am and 3pm if possible.
2. Earning a Feed-in Tariff for surplus energy exported back to the grid – This surplus energy can be sold via your electricity retailer and will appear as a credit on your energy bill. Note that there is no mandatory minimum for feed-in-tariffs so you sell power at much lower rates than what you buy power for. For a most home which have a single-phase electrical connection in Mt Gambier, South Australia Power Networks permits solar systems with a 5kW inverter and up to 6.6kW of solar panels can export energy. Three-phase homes can go up to 30kW.
For most residential systems, the best return of investment can be reached by not oversizing your system beyond 6.6kW of solar panels unless you have particularly large consumption during the daytime, plan to install a battery, or aren't too concerned about your financial return and would simply like to be as self sufficient as possible.
Use the Solar Choice Payback Calculator to work out how much different solar system sizes would reduce your energy bills!
Government rebate for solar panel projects in Mt Gambier
In Mt Gambier the main rebate available for residential solar projects in the federal solar rebate. In short this will mean they chip in about a third of the total upfront costs (meaning you only pay the difference!).
The rebate is calculated based on an estimate of how much solar energy will be generated in each area and is determined by your postcode. An eligible Solar Panel system will generate a number of certificates (STCs) which are then solar by the installer. Instead of paying for the total system and then receiving a rebate afterwards, Clean Energy Council accredited installers will reduce their upfront costs. The amount of STCs generated by each project does decrease on the 1st of January each year until it is phased out all together in 2030.
We have looked up the rebate values for the typical solar PV system sizes and included them in the table below for you:
| | |
| --- | --- |
| Solar System Size | STC Rebate in Mt Gambier (5290)* |
| 3kW Solar System | $1,503 |
| 5kW Solar System | $2,529 |
| 6.6kW Solar System | $3,335 |
| 10kW Solar System | $5,058 |
* Note that these values have been taken from Greenbank on 9 March 2021 when the price was $36.65 per STC – it is a live market so prices are always fluctuating
Solar panel costs in Mt Gambier, South Australia
Solar Choice has been tracking the average cost of solar since 2012 and publish this data monthly via the Solar Choice Price Index.
While we don't specifically track pricing in Mt Gambier, the prices follow a similar trend to pricing in Adelaide. Note that the STC rebate is slightly higher (e.g. ~$200 for a 5kW solar system) in Adelaide.
Based on the March 2021 price index, we expect a 6kW solar panel system would cost $5,220 including GST (after the rebate) in Mt Gambier.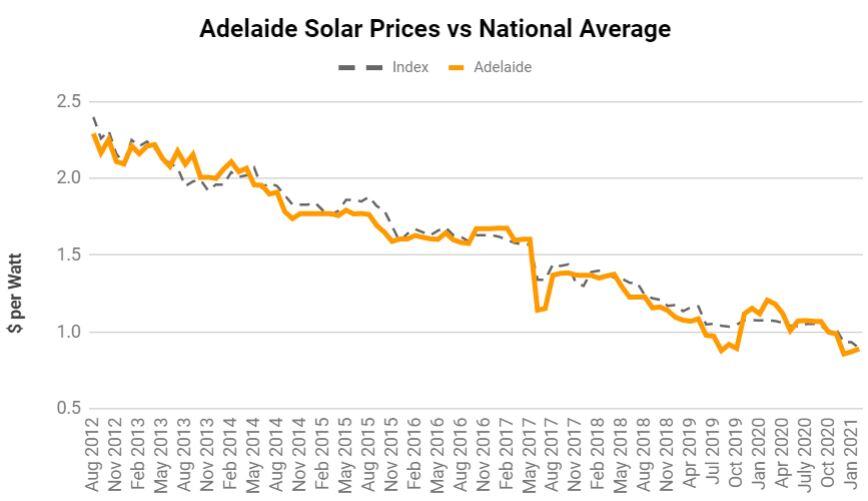 So what about Solar Batteries?
T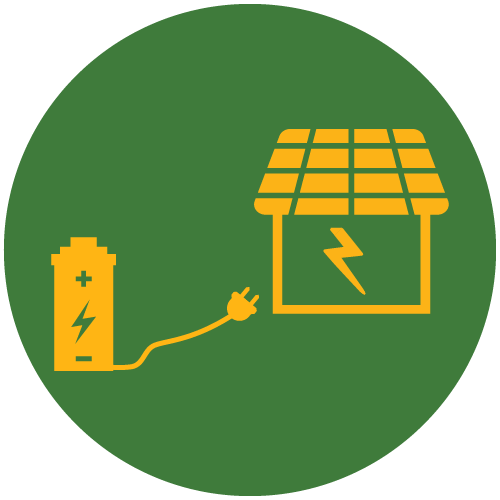 here is a lot of hype about batteries, but unfortunately when you look at the numbers currently they don't quite stack up. We have been analysing the return on investment for residential battery projects regularly for the last 5 years. In our most recent analysis, we found that the payback period for adding a battery to a solar project in Adelaide would be around 15 to 20 years looking at a couple of different energy usage scenarios. This is beyond the typical 10 year lifespan of a solar battery.
Many residents are keeping options open for the future by ensuring their systems are battery ready. This would mean, ensuring roofspace is used efficiency to enable a future solar panel expansion and using a hybrid inverter to keep options open for a DC-coupled battery.
There are also plenty of people who are happy to be an early adopter of batteries and make a significant reduction in carbon footprint at their current price. These investments are paving the way for the battery market to expand and these systems eventually being affordable by the masses.
How to find a trustworthy solar installer in Mt Gambier?
Solar Choice have done the hardwork and pre-vetted over 200 installers around Australia ensuring that you will be dealing with a company with the appropriate Clean Energy Council accreditations, reviewed their suggested products, warranties and pricing and collected feedback on installs since 2008. Through our platform you can instantly browse through quotes online ahead of a meaningful discussion with your preferred installers – click the Compare Now button below to get started!
Compare solar quotes from up to 7 local installers now.

Latest posts by Jeff Sykes
(see all)