According to data from APVI, over 15% of households in Toowoomba have Solar Panels already installed. This guide provides all the information you need to know (almost) about installing solar panels on your home in Toowoomba. The above image is a design of the monster 2GW Bulli Creek Solar Farm project near Toowoomba currently being developed by Solar Choice.
Four reasons why Toowomba is a great place for Solar Power
1. Toowoomba has plentiful Sunshine
Toowoomba is one of Australia's optimal cities for solar. According to data from the Bureau of Meteorology, Toowoomba receives '5.7 peak sun hours' on average per day (higher in winter and lower in summer). What that means for a solar system is that for each kilowatt of solar panels installed you will receive 5.7kWh of energy less 20-25% for efficiency losses through the panel orientation, wiring, inverter and other components.
To give you an idea, we have done the math for you in the below table across some typical solar system sizes assuming panels are north-facing and an efficiency loss of 20%
Solar PV system output in Brisbane (Popular system sizes)
Solar system size (kilowatts)
Average daily system output* (kilowatt-hours)
3kW
13.7kWh
4kW
18.2kWh
5kW
22.8kWh
7kW
31.9kWh
10kW
45.6kWh
* Output was calculated using PVsyst software
How does this Solar Power output help me save money on my energy bill?
Solar power is a great investment for virtually any home that has a reasonably-sized, unshaded roof and some electricity consumption during the daylight hours. This is because your home-generated solar energy can save you money in two ways:
Using solar power reduces the amount you have to buy from the grid. This is commonly referred to as 'solar self-consumption', and it is the key to making the most of your solar system – you should do everything you can to maximise your self consumption. In practice, self-consumption entails running your appliances (pool pump, washing machine, dish washer, etc) when the sun is shining. (Read more about shiftable loads.)
Selling excess or unused solar energy back to the grid. You can sell energy to your electricity retailer for a solar feed-in tariff. Any solar energy produced that is not immediately put to use in devices in your home will automatically be sent back to the grid, earning you some income. These days the feed-in-tariff rates are much lower than what you are buying electricity for so it doesn't provide the best return to oversize your solar system to earn more credits.
Not sure what system size is right for you? Use our Solar Choice Payback Calculator to run through some scenarios are see what your preferred option is.
Compare quotes from up to 7 installers in Toowoomba now.
2. Government inventives significantly reduce the cost of installing Solar Panels
Like everyone everywhere in Australia, Toowoomba residents who install solar can benefit from the nation's Renewable Energy Target. In essence, the Renewable Energy Target provides an up-front incentive covering roughly 30% of the cost of installing a solar PV system based on the system's size, how sunny your location is and the current market price for the created certificates (called STCs).
Installers in Australia acccess this rebate on the behalf of their customers meaning they can provide a point of sale discount to the customer and keep the process simple. Bare in mind that this incentive only applies if your system is installed by accredited solar installers using accredited products. Solar Choice has pre-vetted a network of installers all across Australia ensuring that any quotes viewed on our comparison tool are provided by Clean Energy Council accredited installers with a good reputation and years of experience.
As an example, a common 6.6kW solar system installed in Toowoomba in 2020 would be eligible for a 'discount' of approximately $3,500-$3,700 based on STC prices from Greenbank.
3. The overall cost of Solar Panels is now affordable for most households in Toowoomba
Whilst in the early days of Solar, the technology was limited to early adopters and those with high disposable incomes, the below historical price graph shows how the price of solar panels has fallen significantly since 2012.
The data below from Solar Choice's Price Index which is used by the Australian Government and Bloomberg, provides an accurate historic view of average pricing that can be used as a guide. The data is average across Brisbane-based installers some of which cover the Toowoomba area – the pricing for Toowoomba-based installers is generally pretty similar.
From our previous example, a 6kW Solar PV System costs on average $5,410 including the STC rebate and GST.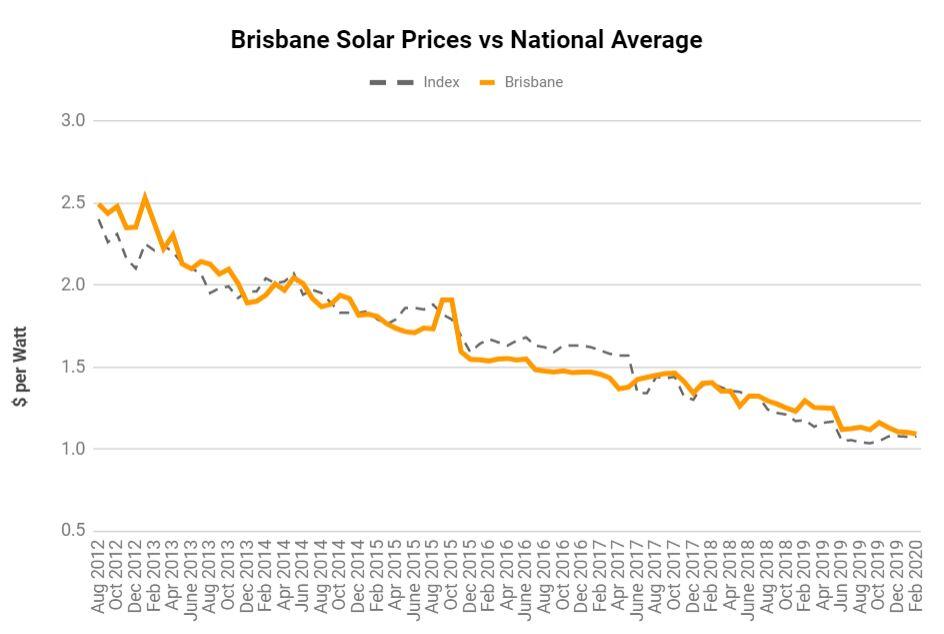 4. Solar Panels offer attractive returns for Toowoomba households
We have put together a table outlining the payback period and ROI for a typical 3kW and 5kW system. It is important to note that your payback will vary depending on the below factors:
Your electricity rates
The slope and orientation of your roofspace
Any installation challenges or extra costs (switchboard upgrades, tilt frames, multiple story buildings etc.)
Price and quality of the system installed
Return on Investment for typical Solar Panel Systems in Toowoomba

– last updated April 2020 –

System Size
6kW
10kW
System Cost
$5,410
$9,900
Self Consumption Rate
30%
50%
30%
50%
Payback Period
4 Years
3.2 Years
5.2 Years
4.4 Years
IRR
25%
32%
19%
23%
Annual Savings
$1,335
$1,677
$1,883
$2,225
Assumptions:
Electricity rate = 26c per kWh

Solar feed in tariff = 10c per kWh

Household average daily usage = 25kWh per day
What about battery storage?
One way to increase solar self-consumption is to have a battery storage system installed. Although batteries can still be quite pricey, they are quickly becoming more affordable. Battery storage price comparisons are now available with all of Solar Choice's Solar Quote Comparisons.
Full a full analysis of whether adding battery storage to your solar project is worth it – read this article.
Compare quotes from up to 7 pre-vetted installers in Toowoomba now.
Since 2008 our knowledge and sophisticated software has allowed over 300,000 Australian households and businesses to make a well-informed choice on their solar & battery installer.

Latest posts by Jeff Sykes
(see all)