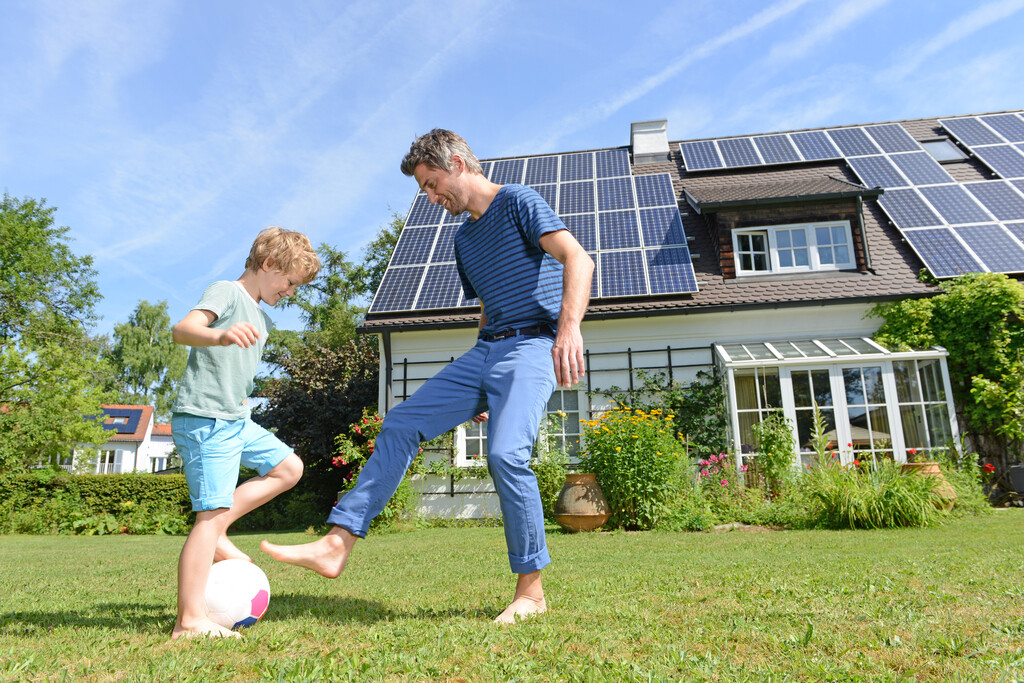 Since the NSW State Government removed the mandatory feed-in tariff in early 2012 there has been ongoing discussion about the value of solar power in NSW. With energy prices skyrocketing as a result of increasing distribution costs and, to a lesser extent the Carbon Price, a solar PV system can offer customers in NSW a means of taking control of their finances.
Solar power in NSW
Many residential and commercial property owners have seen their energy bills almost double in the past few months. Although the Coalition Government has championed the Carbon 'Tax' as the cause, in reality rising network costs are the real reason customers have received an unpleasant surprise when opening their energy bills. Purchasing a solar power system that closely matches the energy usage of the home or business can drastically reduce energy bills and will effectively pay for itself in a few years, despite Premium feed-in tariffs no longer being offered, what's more customer investing in a system before the end of June 2013 will still be able to take advantage of 'double discount' on the first 1.5kW installed.
Get money off the price of your system through the Solar Credits rebate scheme
In order to kick start the Australian solar PV market and take advantage of Australia's ultimate resource, the sun, the Federal Government implemented a number of  incentive mechanisms that make installing a solar PV system financially attractive. Although a source of some discussion and review in recent times there is wide spread support for maintaining the Enhanced Renewable Energy Target (eRET). The eRET sets a goal of generating 20% of Australia's energy from renewable sources by the year 2020, and lays out the framework by which progress towards this goal is to be monitored and accomplished.
The eRET is important for those considering solar PV as the Solar Credits scheme was developed as a mechanism for helping reach the 20% target. The Solar Credit scheme is effectively up-front discount (in the form of STCs/RECs) on solar power system installations and solar systems anywhere in Australia, residents of NSW benefit from the long daylight hours they receive by being allocated more STCs and RECs than the likes of Victoria and Tasmania. You can get an idea of the number of STC's you may be eligible to receive by visting the Government's Clean Energy Regulator website and entering your post code, system size and payback period.
What is the return on investment (ROI) for solar power in NSW?
Australians have seen a significant increase in their energy bills in the past few months, with indications that this could increase by as much as 37% nationally by 2014 compared with 2011 levels. At the same time we have seen the cost of solar PV systems reach an all time low. As the cost of energy continues to rise the remaining time it will take for a solar PV system to pay for itself will decrease. You can download our ROI calculator to get a better idea of the how much a solar PV system could save you on a yearly basis and how long your system will take to pay for itself.
In order to populate the spreadsheet you'll need your most recent energy bill for the quarterly and daily energy usage in kWh, this will also allow you to calculate the size of the system you need and give you the current cost of your energy. Roughly speaking 1kW of solar panels will give you an average of 4kWh of power per day, if your average daily usage is 15.4kWh, for example, a 4kW system would be a good match for your needs, any difference between the energy generated  by the system and your usage will give you the 'Self-consumption vs Export' figure (average daily energy usage divided by average daily generation multiplied by 100).
Although NSW has no mandatory feed-in tariff there are some retailers that will buy any excess energy generated for between 0-8 per kWh, you can get more information about the options available at Switchwise.
Lastly you'll need to know the system cost, fill in our free and impartial Solar Quote Comparison. You'll receive quote from up to 7 installers who operate in your local area offering a range of products and prices, our solar brokers can also advise you of the best system size to meet your needs if you are unsure. 
Once you have entered all the information, you will be able to see your Annual savings, percentage ROI and how long it will take for your system to pay for itself. If you save the ROI calculator to can use it to see how changes in the price of energy will affect the remaining payment time by changing the cost per kWh and the remaining 'balance' in your system (the original cost minus the savings for the length of time the system has been operating).
Solar power for businesses and commercial properties in NSW
Businesses and commercial properties who consume the bulk of their electricity during daylight hours–namely, the majority of all businesses – can make a real difference to their cash flow by installing a solar PV system. Indeed ABN holders may be able to claim depreciation and GST credit on system production and, depending on the size of the system you will be eligible to receive up-front discounts in the form of either STCs or RECs. To find out more simple select the commercial tab on the Solar Quote Comparison and complete your details.
For more information on how you can get solar power in NSW complete the Solar Quote Comparison or call one of our Solar Brokers on 1300 78 72 73.
© 2012 Solar Choice Pty Ltd

Latest posts by Rebecca Boyle
(see all)