Solar power is a popular investment option for homes in the greater Newcastle, NSW region – where roughly 15% of households have a solar PV system installed. This article examines the key considerations for those thinking about having a solar system installed in Newcastle, including energy production estimates, system prices and payback periods.
Compare solar installation quotes instantly: Complete our Solar Quote Comparison request form on this page.
Compare Solar & Battery Quotes
Why should you consider solar for your home in Newcastle?
1) Lots of sunshine
Australia is not known as the sunburnt country without a reason – regardless of where you are on the continent, you probably receive enough sunshine on your roof to make solar panels worthwhile. Newcastle is no exception, receiving about 5.3 'peak sun hours' per square meter per day (on average throughout the year), according to PVWatts. Think of those 5.3 hours of concentrated sunlight as the 'fuel' for your solar system – in an ideal world, 1 kilowatt (kW) of solar installed in Newcastle would produce 5.3 kilowatt-hours (kWh) of energy.
But like any generator, a solar PV system is not 100% efficient – so some of the raw energy is lost in the conversion from light to electricity. Typically, a north-facing solar system tilted at latitude (~32 degrees for Newcastle) will have an efficiency loss of about 15% – for a total conversion efficiency of about 85%. The table below shows rough daily energy output figures for a range of popular solar system sizes if installed in the Newcastle region – assuming that they are 85% efficient.
Solar PV system output in Newcastle (Popular system sizes, at 85% efficiency)
Solar system size (kilowatts)

Avg daily system output (kilowatt-hours)
1.5kW
6.7kWh
2kW
9kWh
3kW
13.5kWh
4kW
18kWh
5kW
22.5kWh
10kW
45kWh
Sounds good! But how does this solar energy save me money?
When you use electricity from the grid, your electricity retailer charges you per kilowatt-hour of energy – you should be able to see your historic usage on the back of your most recent bill. Your kWh consumption probably changes by the season, depending on the types of devices & appliances that you use (air conditioning, heating, dryers, etc). By figuring out your average usage, you'll be in a better position to choose the best size system for your needs.
New South Wales no longer has a generous solar feed-in tariff for new solar installations, which means that you do not get financially rewarded for putting your solar energy into the grid (although some electricity retailers do offer a nominal buyback rate). In short, these days 'self-consumption' is the name of the game – you need to use as much of your solar energy as possible during the daylight hours in order to get the most out of your system.
There are two ways to maximise the proportion of solar energy that you consume: 1) Make sure your system is sized appropriately, and 2) Know your electricity consumption pattern and behave accordingly.
We have developed a tool to help you select a solar PV system size based on the amount of energy that you consume and your consumption pattern:
Check out our Solar PV System Sizing Estimator Tool here.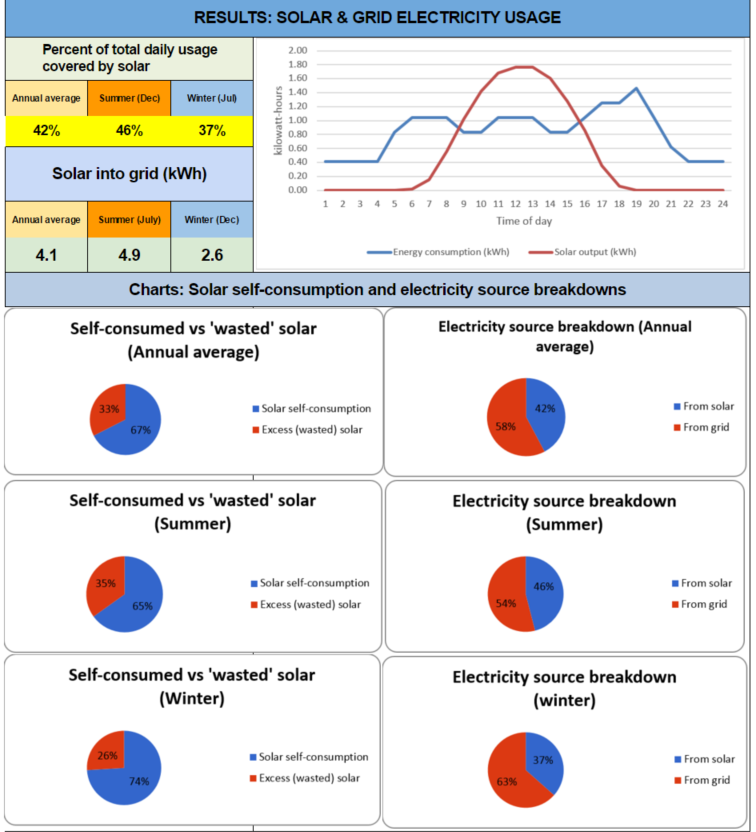 2) Up-front solar subsidies through the Renewable Energy Target
The federal government has a mechanism in place to reduce the cost of installing solar PV systems under 100kW in capacity. The actual value of the incentive depends on a number of factors such as location and system size, but usually works out to be about 30-40% of the total installation cost. This incentive has been pivotal in making Australia home to some of the lowest solar PV system prices in the world.
As an example, when this incentive is applied to a 5kW solar system in Newcastle, it results in a reduction of $3,605 – $4,120.
Read more about incentives available for rooftop solar under the Renewable Energy Target
3) Low solar PV system prices
Thanks in part to the federal Renewable Energy Target, Australia is home to some of the lowest PV system installation prices in the world. We've been keeping track of price trends in Australia's capital cities since 2012 in our monthly Solar PV Price Index articles. While we don't specifically publish prices for Newcastle, the are generally similar to those for Sydney.
Instantly compare current prices for a range of installers & system sizes in Newcastle
Compare Solar & Battery Quotes
Is battery storage an option for Newcastle homes?

One way to increase solar self-consumption is to have a battery storage system installed. Although batteries can still be quite pricey, they are quickly becoming more affordable. (Battery storage price comparisons are now available with all of Solar Choice's Solar Quote Comparisons.)
4) Solar power is still a good investment in Newcastle
Payback times for solar PV systems in Newcastle can be short, with sizeable savings possible by installing a system. The table below provides an overview of the case for investing in systems of various sizes in the Newcastle area. The table below uses average system prices – keep in mind that lower system prices will deliver even more impressive returns.
Keep in mind, however, that while lower prices don't always necessarily mean lower quality, they should be approached with a healthy degree of caution; a solar PV system should continue to produce power for up to 25 years (with inverter replacements every 7-10 years). Any system downtime (due to component failure, for example) will result in extended payback periods – not to mention the costs that may be incurred for repairs/replacements not covered under warranty.
Indicative returns for solar systems @ average Newcastle prices

(Assuming 85% system efficiency, 20kWh electricity consumption/day, retail electricity @ 25c/kWh, solar feed-in rate @ 8c/kWh)


1.5kW
2kW
$3,100
$3,800
@ 50% self-consumption
@ 70% self-consumption
@ 50% self-consumption
@ 70% self-consumption
~6.8 year payback
~5.6 year payback
~6.3 year payback
~5.2 year payback
~12% IRR
~17% IRR
~14% IRR
~19% IRR
~$430 annual savings
~$530 annual savings
~$580 annual savings
~$700 annual savings
3kW
5kW
$4,600
$6,350
@ 50% self-consumption
@ 70% self-consumption
@ 50% self-consumption
70% self-consumption
~5 year payback
~4.2 year payback
~4.3 year payback
~3.5 year payback
~19% IRR
~24% IRR
~24% IRR
~29% IRR
~$870 annual savings
~$1,060 annual savings
~$1,450 annual savings
~$1,770 annual savings

Ready to shop for solar? Compare solar quotes from installers in your area.
Compare Solar & Battery Quotes
© 2016 Solar Choice Pty Ltd
Top image via Spectrum Blog
---