Solar PV system component wholesaler Solar 360 has recently launched its own branded line of energy storage products onto the Australian market under the banner of 360Storage, further widening the range of choice that solar households have when it comes to energy storage systems. 360Storage offers several lines of devices that allow solar system owners to maximise their self-consumption and take full advantage of having a system. The company promises customised service for its customers, including individualised system sizing (based on actual electricity usage) and accessible financing options.
360Storage product range
360Storage City: For residential electricity tariff optimisation
With solar feed-in tariffs around the country at only nominal rates (around 8¢/kWh) and the cost of retail electricity quite high (more than 30¢/kWh on some tariffs in some areas), it is essential for system owners to consume as much of their solar power as possible in order to get the maximum financial benefit from their system. The City solution is designed with this purpose in mind. It is recommended for those located in regions where blackouts are rare (mainly urban centres) and for homes that do not have a preexisting solar system.
Other features include:
Optional zero grid export functionality (desirable, for example, in Queensland, where network connection rules discourage solar export)
Expandable storage capacity–from 2kWh to 20kWh
Can boost solar self-consumption to up to over 70% (vs as low as 30% without energy storage)
Durable LiFePO4 batteries
Download a brochure: 360Storage City (PDF)
360Storage Backup: Maximising enery savings, with an added emphasis on energy security
The Backup solution is designed with homes and businesses who require highly reliable electricity supply in mind, while also offering the tariff optimisation functions of the City. It can be retrofitted onto existing solar installations and provides blackout protection by acting as a backup for critical devices when the grid goes down.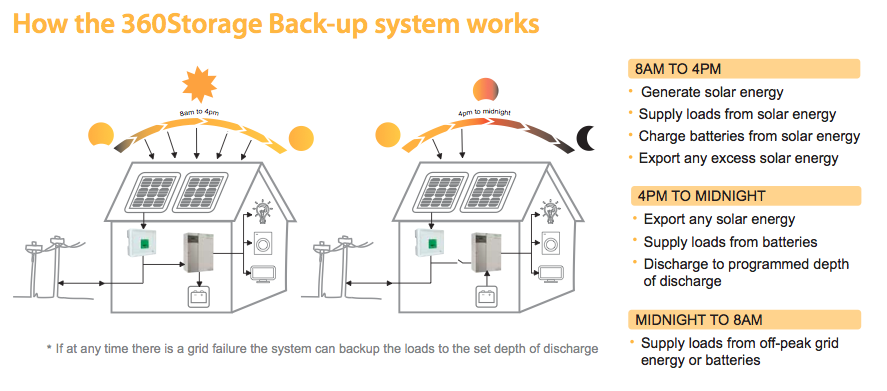 Other features include:
Ability to supply large loads–4kW and 6kW units available
Energy storage capacity between 5kWh and 20kWh
Powered by Schneider Electric and Narada
Solutions customised for individual customers
Also deployable for rural and off-grid applications
Download a brochure: 360Storage Backup (PDF)
360Storage Integrated: A plug-and-play energy storage system for homes & businesses
The Integrated is a streamlined, portable energy storage device which 360Storage is soon to introduce. This article will be updated when more details are available.
Company info
Headquarters: 360Storage is a subsidiary of Solar360, a solar PV system component wholesaler. They are headquartered in Melbourne.
Contact information:
Web: www.360storage.com.au
Tel: 1300 600 360
Fax: 03 9563 8966
Email: sales@solar360.com.au
History in the industry: Incorporated in 2010, Solar360 has become one of Australia's largest solar wholesale, product integrators and project facilitators. The 360Storage product program is distributed via dealer partners Australia wide.
All images via 360Storage
© 2014 Solar Choice Pty Ltd