Solar power is an attractive investment option and great way to save money for businesses in Perth and across the rest of Queensland. This article provides an overview of commercial solar power in Perth and Western Australia.
How much energy do Solar Systems in Perth produce?
As a rule of thumb, a solar PV system in Perth will generate roughly 5.3 kilowatt-hours (kWh) of energy per kilowatt of capacity per day on average throughout the year (with more int he summer months and less in the winter).
This means that a 10kW solar system will generate about 53kWh of energy per day, while a 100kW solar system will generate about 530kWh per day. Actual energy yields will vary depending on location, orientation & tilt angle and components used.

Request a free solar business case and compare leading commercial installers
Commercial solar system pricing in Perth and Western Australia
Solar Choice keeps track of commercial solar system prices for capital cities around Australia noting a ~40% decline in the cost of a fully installed commercial solar PV system in the last 5 years. For a full breakdown of cost trends by city and system size – visit our  Commercial PV Price Index articles.  The data used to create the table is sourced from our installer network database, which includes about 100 installers from across Australia.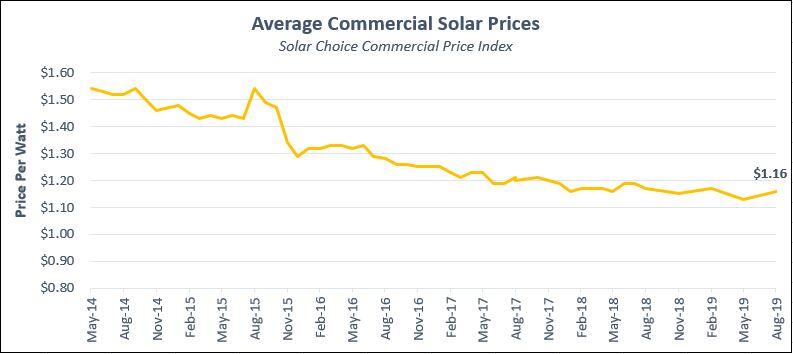 Figure 1 – Extract from Solar Choice Commercial Price Index
3 things  to get right in a Commercial Solar Project
Commercial solar projects follow more rigorous procurement processes and it is important to ensure you have a robust approach that will lead to a great solar investment.
1. Independent financial model to confirm feasibility and ROI
While the environmental benefits of solar projects are clear, most commercial solar projects come down to an evaluation of the financial attractiveness of the project. The financial model for these projects should be developed by experienced photovoltaic engineers who are not trying to sell you a particular solution. Solar Choice offers a free service where any business can receive a customised Solar business case developed agnostically to products, brands and financing arrangements.
2. Get a range of quotes from qualified, reputable solar installers
The best way to ensure you getting a competitive and innovation solution for your project is to engage a number of high quality solar installers with relevant experience. We often hear about projects going wrong where installers are selected on the wrong criteria and insufficient due diligence has been completed on the winning contractor. Solar Choice has developed a pre-vetted network around Australia since 2008 including all major, reputable commercial installers – talk to us about running a tender for your project.
3. Understanding the federal rebates
Commercial solar prices are at all-time lows in Australia, partially due to the federal government solar subsidies available through Australia's Renewable Energy Target (RET). For solar systems up to 100kW of Solar PV, the RET provides an up-front incentive in the form of Small-scale Technology Certificates (STCs). For systems larger than 100kW, the RET provides an ongoing incentive (until 2030) in the form of Large-scale Technology Certificates (LGCs).
Request a free solar business case and compare leading commercial installers
Examples of Commercial Solar Projects brokered by Solar Choice