Townsville RSL Stadium officially opened it's  AUS$2 million solar panel project today. The panels, located across the roof, will generate two-thirds of the stadium's energy requirements.
The system, which is made up of 1800 solar panels, was visited by federal Parliamentary Secretary for Climate Change and Energy Efficiency, Mark Dreyfus, who highlighted the energy capabilities of the stadium.
"This massive solar system generates around 1400 kilowatt hours a day – that's equivalent to the daily energy requirements of 75 homes"
Despite cutting federal solar energy incentives developing renewable energy has still been highlighted as a central element of the Federal Government's Clean Energy Future Plan, with revenue from the controversial carbon price being invested to support the industry.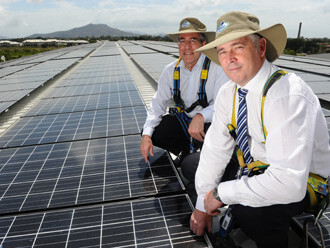 The project itself is part of the Townsville Solar City Program funded by the Federal Government, led by Ergon Energy and supported by the Queensland Government and Townsville City Council. The Townsville Solar City Program aims to find alternative energy solutions to better manage rising electricity demand and defer investment in the electricity network. So far the Programme has helped install more than 1 megawatt of solar PV in Townsville, cutting carbon pollution by 64,000 tonnes.
The stadium is a great example of community solar projects and investment in commercial scale solar projects, Mr Dreyfus echoed the sentiments of many.
"These measures make the most of Australia's natural resources and help us make the gradual shift to a modern, clean energy economy,"
Image via Townsville Bulletin
© 2012 Solar Choice Pty Ltd
Rebecca is a sustainable development and marketing graduate, with a background in community engagement and research. She has a particular interest in sustainable resource use.
Latest posts by Rebecca Boyle (see all)