One of the biggest advantages of solar photovoltaic (PV) technology is its scalability – it can be used in applications as small as a calculator or as large as a utility-scale solar farm. While the solar PV that most Australians thing of these days is on the roofs of their homes and businesses, the technology has also become popular in small-scale off-grid applications. RV Solar Supplies is one company specialising in 'recreational solar' solutions for anyone who wants to take their own power source on the road while travelling Australia's natural expanses.
What is recreational solar?
Recreational solar refers to the use of solar for virtually any situation where mobility and portability are required. The term could refer to any kind of portable power supplies for camping, caravanning, four-wheeling or sailing, but is more strictly defined as 'the application of 12 volt solar panels to charge 12 volt batteries used in outdoor leisure and recreation'. Although long overlooked and underregulated in Australia, recreational solar was recently recognised by the Australian Solar Council as 'an emerging and valuable contributor to the Australian Solar Industry'. And the importance of recreational solar is expected to continue growing – especially as Australia puts more and more RVs on the road.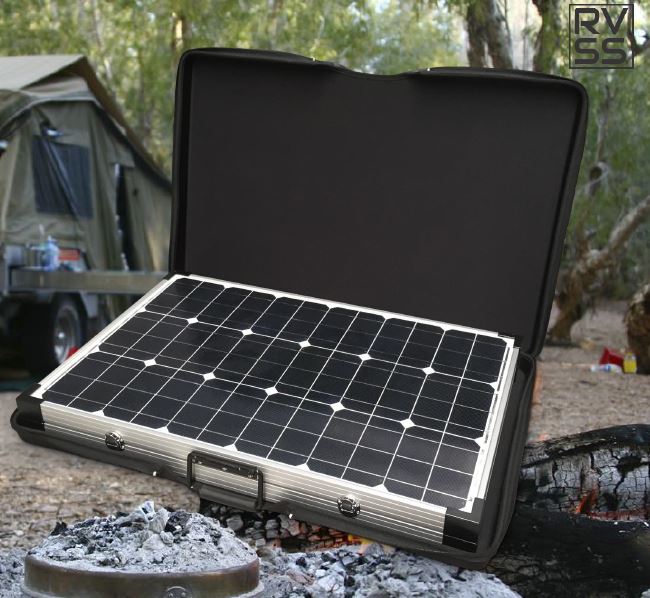 Folding solar panel kit from RV Solar Supplies. (Image via RVSS.)
Who are RV Solar Supplies?
Currently leading this burgeoning market is RV Solar Supplies, a Brisbane-based wholesaler of recreational solar goods. The company started out in 2012 as an e-commerce site with a focus on solar-powered electronics for on-the-road use. In 2014, founder Spencer Smith decided that his company's future was in wholesaling. It was around this time that he began to lobby the Solar Council to officially acknowledge the recreational solar for what it is – a sub-section of the broader industry with interests and struggles closely aligned to those of the larger residential, commercial and utility-scale sectors.
"The RV manufacturing industry in Australia has been in a growth phase for the last decade, spurred by an ageing population entering retirement and young families wanting an affordable holiday at home," says RV Solar Supplies founder Spencer Smith. "The uptake of solar to power this growth in outdoor living is gaining momentum."
What do they do?
Solar products to facilitate 'free camping'
All of the products in the RV Solar Supplies range help travellers to achieve a higher degree of independence while on the road. Although many campers are probably familiar with the company's most popular product range – portable, folding solar panels – RVSS also offers a number of other products that make free camping just that much freer. The company currently sells products in the following categories:
Folding solar panels (PDF Brochure) – An essential for generating electricity while 'off the grid'
DIY fixed-frame solar panel arrays – For mounting onto the roof of your caravan or other surfaces
Flexible solar panels – For application to the outside of your vehicle
Charge controllers – To charge up batteries with your solar panels
Battery charge checkers – For ensuring that batteries are in working order and usable condition
Solar-powered lights – To replace conventional kerosene lamps
Solar-powered fan caps – For keeping cool in the sun without batteries
Other accessories including clips, cables and connectors
Additionally, RVSS will soon be supplying the Australian market with DC-AC inverters and deep-cycle lead acid batteries.
Education for recreational solar users
In addition to providing importing these products for Australian retailers, RVSS is doing its part to educate consumers about the how to select recreational solar devices – as well as how to use them safely. The company's website has a number of useful and informative blog articles around topics such as the pros and cons of lithium-ion batteries, solar cell selection 101, how determine how much solar you need while travelling, and ways to make a caravan more environmentally-friendly. (You can read more on the company's blog.)
"Many camping grounds and national parks enforce a curfew on the use of generators due to their noise and fire risk, so outdoor enthusiasts are increasingly looking to solar to provide an alternate source of power," says Mr Smith.
"Having a zero carbon footprint when camping and caravanning is now a possibility, especially with the growing popularity of 'free camping' sites and locations around the country. Living a sustainable outdoor lifestyle is a choice more and more people are making," he says.
© 2015 Solar Choice Pty Ltd