What is the best inverter in Australia to use in your solar power system? There are many factors and options to consider. This article attempts to give our own opinion on the best solar inverters in Australia.
Please take a look at our methodology – we've attempted to be very transparent about the conclusion we have reached. Important to note that we are just looking for the best quality inverter in this article ignoring costs – not the best value inverter. In this article, we are looking at residential solar so for ease of comparison we have assessed each company's best single-phase 5kW inverter model.
Solar Choice's List of the Best Solar Inverters in Australia for 2023:
Note: Solar Choice is not an installer and has no incentive to promote one brand over another. Be careful of installers' articles on the web suggesting the brands they sell are the best!
Inverter
Image
Warranty
Max Efficiency
PV Evolution Labs Top Performer?
Key Features/ Comments
Enphase

IQ8

15 Years (extendable to 25)

97.4%

No

Micro-inverters

US company

SolarEdge

SE5000H

12 Years (25 years for optimisers)

99.2%

No

Power optimisers

Israeli company

Huawei

SUN2000 -5KTL-L1

10 Years (extendable to 20)

98.4%

Yes*

Hybrid inverter

PV Labs Top Performer

SMA

SB5.0-1AV-41

10 years

(5 full+5 full on registration)

97%

Yes*

Shadefix function

German company

Fronius

GEN24 5.0

10 years

(5 full +5 parts only on registration)

97.6%

Yes*

Hybrid Inverter

Austrian company

Sungrow

SG5.0RS

10 years

97.9%

No

Low start-up voltage (40v)

Built-in DC isolator

Goodwe MS Series
10 years

(5 full + 5 parts only)

97.7%
No
3 MPPTs

200% DC oversizing

Delta

H5A_222

5 years (extendable to 20 years)

97.5%

Yes*

Low start-up voltage (30v)

Built-in DC isolator
*Not the same model that is available in Australia is marked as a top performer but is an indication of a quality brand
Important note: This ranking reflects the opinion of Solar Choice only and we encourage readers to do their own research and come to their own conclusions.
Compare solar quotes from up to 7 local installers now.
Our Methodology: How we determined the best solar inverters in Australia
1. Max Efficiency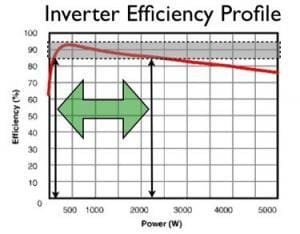 The efficiency of the solar inverter is an essential factor because all the DC electricity produced by the solar panels will pass through the inverter to be converted into Alternating Current (AC) which can be consumed by home appliances.
All inverters are tested by independent authorities which provide maximum efficiency and a European efficiency rating and will display these results on their product datasheet. In our comparison, we have used the maximum efficiency for an apples-for-apples comparison.
A solar inverter's efficiency will vary based on the amount of power that is generated and the amount of solar energy that is inputted. The maximum efficiency is measured as the highest point in the curve where the inverter is at its optimal performance.
Most solar inverters maximum efficiency ranges from 96.5% to 98%, with the higher being more efficient.
2. Warranty
The warranty period can vary depending on brand. We recommend that you choose an inverter with a minimum warranty period of at least 5 years with 10 years being ideal.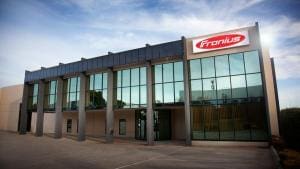 There has been an increasing number of manufacturers who are offering extended warranties, up to an additional 20 years which usually comes at an additional cost.
As we've seen many residential solar installers go out of business within the lifetime of the solar systems they've installed, many end-consumers need to get in touch with product manufacturers directly. For this reason we generally recommend you pick a brand with an Australian office and an Australian phone number you can call.
A long warranty from a company with no Australian presence is not worth much in our opinion.
You can review our list of CEC approved inverter brands with an Australian office.
3. PV Evolution Labs Top Performer
PV Evolution Labs (PVEL) has been independently testing solar panel reliability since 2014. The solar panel testing is considered internationally as an excellent indication of solar panel quality.
In 2019, PVEL launched their inaugural ranking of solar inverters, which seeks to identify the top performer solar inverter brands.
A point to note is that the testing process is voluntary and the product manufacturers have to pay to be a part of it so they are not testing the entire market.
You can review our list of PVEL Top Performers, or you can download and take a look at the PVEL 2019 Inverter Scorecard.
4. Key Features
We have looked at the key points of difference that each inverter brings to the market to factor into the ranking.
Notably, the fact that Enphase's solution is micro-inverters and SolarEdge includes power optimisers has lifted them to the top of our ranking. This functionality enables individual panel level optimisation and monitoring which adds significant value to the end consumer. Read more on this here.
Limitations of our ranking
It is clear from our methodology that we have not assessed every factor of an inverter, but are looking to find a simple way to identify the best quality and leading solar inverter options available on the Australian market.
Costs

– first and foremost as we are considering the 'best solar inverters' for the Australian market we have ignored price for the purposes of this ranking. The inverters towards the top of this ranking will cost more than the options towards the bottom as per the below indicative guide:
| | |
| --- | --- |
| 5kW Inverter Option | Indicative Cost Range |
| Enphase | $2,400 to $2,600 |
| SolarEdge | $1,800 to $2,000 |
| Huawei | $1,100 to $1,300 |
| Fronius | $1,700 to $2,000 |
| SMA | $1,700 to $2,000 |
| Delta | $800 to $1,000 |
| Sungrow | $800 to $1,000 |
| Goodwe | $800 to $1,000 |
Other inverter specifications

– in order to keep this simple we have selected some of the most important aspects of an inverter to compare. A more holistic approach may lead to a slightly different ordering and outcome. For example if you have 3-phase power or shading impacts on your roof, the list of possible inverters would look different to our ranking

Country of manufacture

– for some people this can be very important. These days the vast majority of solar equipment is manufactured in China. Even European brands like SolarEdge, Fronius and SMA have major production facilities in China. If you are looking for something that is not manufactured in China you can look at the datasheet of the model of inverter you have been quoted to see where it was manufactured.
What about brands that are not on this ranking?
These are what we would consider the top 7 brands in Australia for solar inverters. That does not mean that brands not listed on this page won't do the job. There are cheaper options from Chinese manufacturers that can serve a customer on a budget well, but you will have to take the risk that they may not last as long as the options here and may not perform as well. You can read our product reviews on all inverters in the Australian market here.
Compare quotes from up to 7 pre-vetted installers in your area now.
Since 2008 our knowledge and sophisticated software has allowed over 300,000 Australian households and businesses to make a well-informed choice on their solar & battery installer.

Latest posts by Jeff Sykes
(see all)