The Clean Energy Regulator has announced that the 2020 renewable energy target is effectively met – three years ahead of schedule – with some 6,500MW of large scale wind and solar projects already built, under construction, or committed.
The announcement by the CER confirms separate analysis by private consulting firms that suggest that the much-reduced 33,000GWh target for 2020 will be easily met, well ahead of time.
That 33,000GWh target, slashed by the Abbott government from 42,000GWh under the pretext that it would cause prices to rise and the lights to go out, was still branded as "impossible" to meet by many conservative commentators.
Those predictions proved absurd, but it raises the question of what might have been, and what will follow, given the uncertainty around federal energy and emissions policy.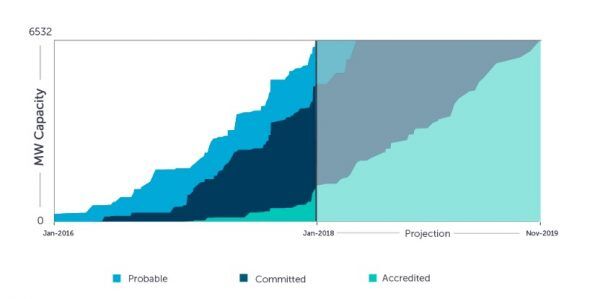 On one positive note, energy minister Josh Frydenberg said in a statement that it was clear that the influx of wind and solar would push wholesale prices lower in coming years.
Frydenberg even conceded the added renewables capacity would improve reliability, a point made clear by the Australian Energy Market Operator in its reports to the government last year, but rarely acknowledged by the Coalition or conservative commentators.
Frydenberg noted that the big shift in the large scale renewables market had been the growth of large scale solar, and the emergence of Queensland with the largest share of this new build with more than 2000 megawatts of capacity.
It was followed by Victoria with around 1600MW and New South Wales with 1400MW.
"This will ensure significant additional electricity supply is available in the market well ahead of 2020," Frydenberg said in his statement.
"Importantly, as outlined in the Australian Energy Market Commission's 2017 Residential Electricity Price Trends Report released in December, this extra supply is expected to apply downward pressure on wholesale electricity prices over the next three years.
"This year should see around 2600 megawatts of new renewables projects commence operating which will further strengthen reliability and reduce emissions in addition to reducing electricity prices."
Compare Solar & Battery Quotes
Giles Parkinson regularly contributes unique content to Solar Choice News. Giles is the founder and editor of clean energy industry news service RenewEconomy. He is a journalist of 30 years experience, a former Business Editor and Deputy Editor of the Financial Review, a columnist for The Bulletin magazine and The Australian, and the founding editor of Climate Spectator.
Latest posts by Giles Parkinson (see all)