The Clean Energy Council (CEC) has approached Solar Choice for fresh pricing data to be included in the newest edition of the organisation's Guide to Installing Solar PV for Business & Industry (PDF). As it did last year, the document will include indicative pricing ranges for 10 kilowatt (kW), 30kW, 50kW and 100kW solar systems.
Solar Choice's commercial wing, Solar Choice Commercial, has brokered or developed thousands of projects for businesses throughout Australia. Through the high volume of jobs we handle and large number of solar installation companies that participate in our tenders through our unique, web-based Commercial Tender Management Platform, Solar Choice has gained unparalleled insight into Australia's commercial solar PV market.
Over the past several years Solar Choice Commercial has become a major player in the commercial sector of the nation's solar PV industry. Currently, Solar Choice has facilitated more installations in the 40kW+ range than any other single entity in Australia, plus a huge number of smaller systems.
Price ranges for typical commercial-scale solar system sizes from September 2013, published in the CEC's 2013 guide, are featured in the image below. Keep in mind that this price range snapshot was published at mid-2013 and pricing has improved considerably since then. To obtain current market parameters, commercial clients should get in touch with Solar Choice to set up their own Tender Management Platform by filling out the form to the right of this page (click the 'Commercial' tab).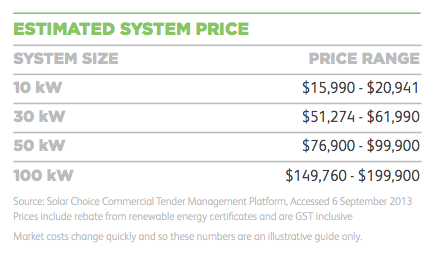 Estimated commercial solar system prices from September 2013.
Solar Choice also regularly publishes pricing information for smaller system sizes more commonly seen in the residential solar market (namely 1.5kW – 10kW) in its monthly Solar PV Price Index articles.
© 2014 Solar Choice Pty Ltd