Solar power is still a great investment in NSW even in the absence a feed-in tariff incentive in the state. The fact that solar PV system prices have been declining combined with the fact that retail electricity rates have risen significantly in recent years means that solar panels can now serve as a cost-effective, rooftop 'power plant' for NSW homes and businesses. This article takes a look at the benefits of solar power and how to best take advantage of them.
Compare Solar & Battery Quotes
What are the benefits of a solar power in NSW?
The main reason that NSW homes and businesses opt to go solar is to save money on their power bills. Since the closure of NSW's Solar Bonus Scheme to new applicants, new solar system owners stand to benefit most from having a system by aiming to consume as much of the solar power that they produce as possible known as 'solar self-consumption'.
Through solar self-consumption, system owners reduce the amount of electricity that they have to purchase from their electricity retailer/utility. Sending excess solar energy into the grid is more of a way to earn additional savings and to get some value from the solar energy you can't use yourself.
Federal discount for solar PV system installation in NSW
The federal government's Renewable Energy Target (RET) is now the primary mechanism for the subsidisation of small-scale rooftop solar in Australia. In effect, the federal government, through the RET, subsidises the installation of any solar PV system up to 100 kilowatts (kW) in capacity.
Exactly how much this federal discount works out to be depends on a few factors, including the location of the installation (sunnier regions will receive a larger discount) and the market price of the tradable certificates (small-scale technology certificates or STCs) that constitute the subsidy.
Generally speaking, in NSW this discount is in the region of 30% off the full cost of an installation. This means a discount of around $3,500 off a 5kW solar system, or $2,100 off a 3kW solar system. The subsidy is applied directly to the up-front cost of your system and should be itemised on the quote and contract from your solar installer.
Attractive return on investment (ROI) for solar power in NSW
In NSW, where there is currently no government-backed solar feed-in tariff in place, a solar power system can provide its owner savings on electricity bills by reducing the need to purchase power from the electrical grid. Additional credits can be earned for the solar energy that you send into the grid – the rate offered will depend on your retailer.
Investing in a solar power system would be particularly advantageous for those who consume the bulk of their electricity during daylight hours, but as long as you can use at least 30% of the energy that the system produces the investment case will probably look pretty good.
Learn more: Read our Quick Guide to solar system sizing or check out our Solar Payback Estimator.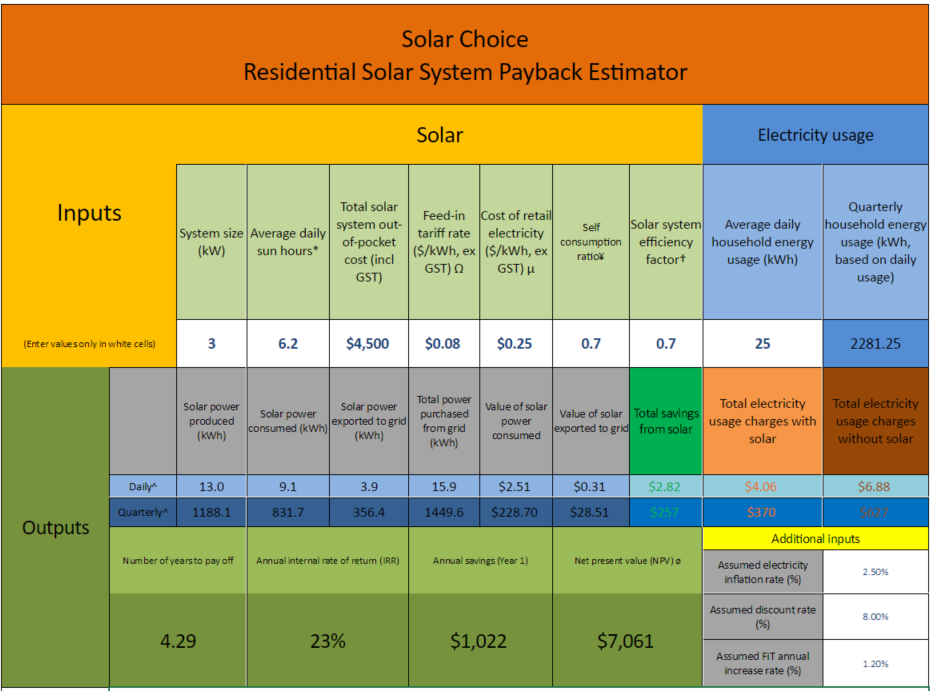 Solar power is a low-maintenance investment
Rooftop solar systems generally have no moving parts and require very little in the way of maintenance or inputs once they are installed and functioning.
Tax benefits for businesses with solar power systems
ABN holders may be able to claim depreciation and GST credit on system production.
Typical solar system size in NSW
The solar power system size best suited to your needs will depend on your daytime electricity demand. Since any solar electricity exported to the grid will earn you only a relatively small bill credit, consider installing a system that will meet your daytime electricity demand. Depending on the home or business, the best system size may be as small as 1.5kW or 10kW, or upwards of 50kW or 100kW.
Learn more: Check out our Solar System Sizing Estimator Tool
…and how much power will my solar power system produce?
Each solar power system has its own nameplate capacity, in kilowatts (kW). Real solar system output relative to this figure will ultimately depend on the quality of the components (are they functioning to specification?), the weather, and shading.
Depending on the details of their situation, system owners can expect their system to produce 3.5-4.5 kilowatt-hours (kWh) of solar energy daily, averaged across the year. For example, a 5kW solar system would produce between about 18 and 22kWh on an average sunny day.
Assuming an electricity rate of 25c/kWh, self-consumption of all this power would result in a maximum power bill savings of $4.50 and $5.50 per day – as compared to a savings of only about $1.45 for sending all the energy into the grid (for an assumed feed-in rate of 8c/kWh). With electricity rates set to continue rising significantly in the medium to long-term future, solar PV will become an increasingly effective way for system owners to protect themselves against soaring power bills.
More realistically, a home may only be able to use about 30%-60% of the energy that their system produces (we recommend that you use at least 30%). In you have a 5kW system and use 30% of the energy, you could save roughly $1.35-$1.65/day in avoided electricity bill charges plus about $1-$1.20/day in feed-in credits.
Remember that circumstances will vary: check out our Solar Payback Estimator to play with the numbers yourself.
Compare Solar & Battery Quotes
© 2019 Solar Choice Pty Ltd (This article was originally published in 2010; it has since been updated.)