Solar power is still a great investment option for Sydney homes & businesses, even after a number of changes to state and federal government incentives. 10kW solar systems have proven to be a popular system sizes for Sydney homes with high electricity demand and businesses with relatively small electricity usage. How much does a 10kW solar system cost in Sydney? This article takes a look.
Solar Choice regularly publishes prices for residential and commercial solar systems based on data from our installer network database. Our goal is to make it easy for customers to make a decision about going solar, without pressure from salespeople.
The table below, compiled using data from our most recent Solar PV Price Index, shows average 10kW solar system prices since December last year. The graph shows that prices have come down significantly since just about one year ago–one of the main reasons that solar power remains as popular as it does in NSW.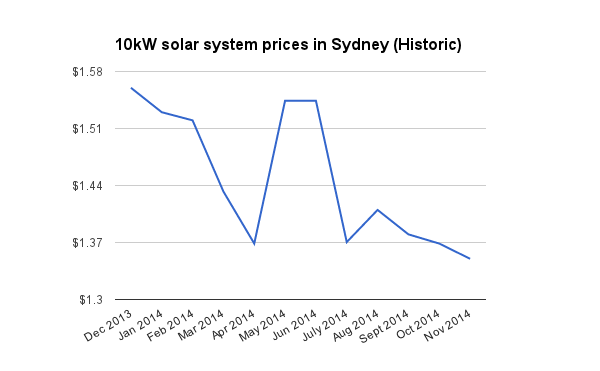 These days, an average 10kW solar PV system in Sydney could cost around $1.35 per watt (W), working out to about $13,500 in total after the federal Renewable Energy Target incentive is accounted for. System prices may be higher or lower, depending on the company offering the system and the components used.
Shopping around and understanding the price ranges for systems of various sizes is just one of the steps necessary for making a well-informed decision about going solar. It's also important to understand the benefits of going solar in Sydney (and NSW more generally), as well as what a 10kW solar system promises in terms of power output and potential electricity bill savings. Additionally, you can check out our Solar PV System Payback Calculator to get a good idea of how much a 10kW solar system could save the average Sydneysider.
Thinking about going solar but not sure where to start? Request a free Solar Quote Comparison and get an instant look at the solar market in your area of Sydney. Just fill out the form on the right of this page or call Solar Choice on 1300 78 72 73.
© 2014 Solar Choice Pty Ltd